Main | Type 4 | Type 5 | Movie | Care | Chat
Enneagram Movie Board Archive
M.C. Esher
---
[ Follow Ups ] [ Post Followup ] [ Jan's Enneagram & Movie Board ] [ FAQ ]
---
Posted by Jan den Breejen on June 06, 2000 at 01:23:56: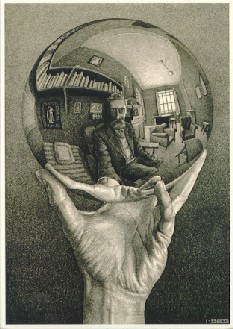 M.C. Esher - the 'intellectual' graphics artist
World's most famous graphics artist. This dutchman is a good example of the Idiosyncratic character (DSM Schizotypical disorder.)which Oldham describes as 'Metaphysics - they are drawn to abstract and speculative thinking, unusual, living in expanded reality'.
- the inclination to reduce reality to simplified clinical structures; in the same way autists don't make much difference between people and animals and objects. Same as the way philopophers reduce complex reality into abstract words. In fact his teacher described him as 'literary-philosophical'. His work called Small Metamorphosis transformed the reality of a city into a little childish chinese puppet! Autistic people emotionally need/love structured versions of reality like city maps. When he visited Byzantium he compares the crowd of people with an ant colony.
- cerebral looking artistic work, mathematical looking structures
- Strange, odd, surreal looking graphic works; extraordinary originality; surreality integrated into reality.
- he lost a contact a bit with the thinking of 'normal' people; thought what he did was not so special at all and he couldn't understand that people projected all kinda new agy and psychedelic concept into his work (like reincarnation with the famous work with little dragons coming out of a flat sheet of paper; rising and then again disappearing into the two-dimensional flat sheet of paper)
- Ascetic; little value attached to money; he just made all of his work available to everybody without thinking of the commercial possibilities (Buddhistic)
- 'nutty scientist'image; he said his works were not an end in itself; he just was obsessed/fascinated with the idea that on a 2-dimensional sheet you could draw 3-dimensional looking things; experimenting with mirrors, glass balls and spectra to see what would happen and if he could improve his craftsmanship still further. This matches with the MBTI description of the INTJ character; 'allways trying to improve his work and -technical - abilities'
- odd/mysterious looking person; he was jailed two times; in Italy and Spain because they thought he was a terrorist and a spy. Idiosycns are 'different drummers'in their mind but this is reflected in their general behavior and image.
- Very introverted; he mentioned that he couldn't stand the noise of people and the street when he was working
- Completely absorbed in his work; like a trance, he didn't want criticism DURING when it was work-in-process (that would distract him) but he liked criticism afterwards
- The dualism between a mathematical celebral/intellectual perspective on reality with a passionate and romantic originality, fantasy and amazement; passive emotion at nature's visual wonders; almost like a child's. He was a graphical poet using mathematical forms; he didn't understand both the clinical world of the mathematician world of thinking, but he also didn't belong too to the emotionally expressive art world. Esher he didn't belong to any tradition or fit into an existing classification of art. A different drummer doesn't become a commercial succes easily! (like Van Gogh; by the way: Esher in his earlier life was an original/creative drawer of landscapes; like Van Gogh!). He was a dreamy person and thought in the language of archetypes; the moon for example was a symbol for him of the 'nonchalance'; the lack of bewonderment most people have when they observe nature. 'bewonderment I have so much, breathless bewonderment; the same as like Leonardo da Vinci had' he wrote. So was not a 'dry' Schizoid; he was very passionate on giving creative expressions of his own innovative idea's, had a long lingering anger on his 'imprisonments' (even after 30 years!), and expressed deep hate and torment at the white Swiss mountain-landscape; which was clean and efficient but without fantasy or architeture.
- 'Referring'; he travelled through Europe and integrated idea's from many cultures to which his works refer. We can see this too in management theorists who write their books by using many referrals to other guru's existing theories.
- Rejecting standard mathematics on graphics; he made his own geonometry on space distributions.
- Living in a different world; fascination with inanimate objects (autism/schizophrenia?); 'My work has nothing to do with humans... I don't know what to do with reality, my works have nothing to do with it'. Because of this he wasn't influenced by what the 'other world' thought he should do; he ignored them and did it his way.
- Self-contained; he seemed only to need his work and people related to it. He howver loved his Jewish teacher De Mesquita who was murdered by the Nazi's; he kept his photograph allways in his working room and immediately visited the house of De Mesquita which was ravaged by the Germans.
- Shy; difficulty in social intercourse; 'I have to be alone when I work'
- A nice, friendly person (in the way Einstein was I guess)

Jan


---
---